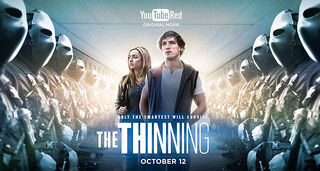 The Thinning is a YouTube Red original movie that was released on October 12, 2016. Peyton List stars as one of the main characters, Laina Michaels.
Plot
"The Thinning" takes place in a post-apocalyptic future where population control is dictated by a high-school aptitude test. When two students (Logan Paul and Peyton List) discover the test is smoke and mirrors hiding a larger conspiracy, they must fight the system to expose it and take it down.
Cast
Logan Paul as Blake Redding
Lia Marie Johnson as Ellie Harper
Calum Worthy as Kellan Woods
Matthew Glave as Gov. Dean Redding
Michael Traynor as Mason King
Ryan Newman as Sarah Foster
Patrick O'Sullivan as Mr. Glass
Jana Winternitz as Ms. Cole
Kiersten Warren as Barbara Michaels
Official Trailer
Ad blocker interference detected!
Wikia is a free-to-use site that makes money from advertising. We have a modified experience for viewers using ad blockers

Wikia is not accessible if you've made further modifications. Remove the custom ad blocker rule(s) and the page will load as expected.