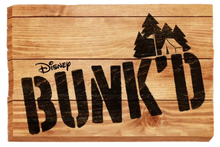 BUNK'D is an American television sitcom. The series is a spinoff to the sitcom JESSIE, which is a TV show that has aired since 2011 on Disney Channel. The show will follow Emma, Ravi, and Zuri Ross leave New York, and head off to a summer camp in Maine, where their parents happened to have met as teenagers. Along with their new friends, they try their best to adapt to their new lives at Camp Kikiwaka. The show premiered on July 31, 2015. The show was renewed for a second season on February 29, 2016. Peyton List currently stars as Emma Ross.
Premise
Emma, Ravi, and Zuri Ross have left their New York penthouse for a summer at Maine's rustic Camp Kikiwaka, where their parents met as teenagers. Now CITs (Counselors In Training), they must learn the ropes from the overly cheerful head counselor Lou and the camp heartthrob, Xander. Zuri makes new friends with two younger campers, the uptight Tiffany and compulsive fibber Jorge. The camp's owner is Gladys and she's even scarier than the Kikiwaka that's rumored to stalk the grounds, and with help of her sneaky niece Hazel, she's out to get the Ross kids because of her decades-old rivalry with their mom. Along with their new friends, Emma, Ravi and Zuri adapt to their new "home away from home" and settle into their exciting new lives at Camp Kikiwaka.
Cast
Main
Karan Brar as Ravi Ross
Skai Jackson as Zuri Ross
Miranda May as Lou
Kevin G. Quinn as Xander McCormick
Nathan Arenas as Jorge
Nina Lu as Tiffany
Ad blocker interference detected!
Wikia is a free-to-use site that makes money from advertising. We have a modified experience for viewers using ad blockers

Wikia is not accessible if you've made further modifications. Remove the custom ad blocker rule(s) and the page will load as expected.